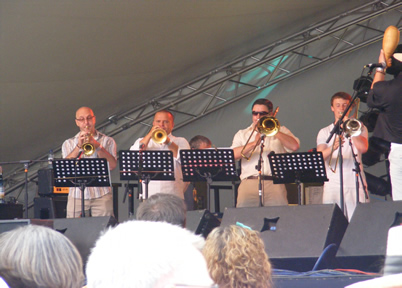 Rhythms Of The World 2009
International Composer/Band Leader/Musician Paul Tucker was born in Essex in 1968 and started playing many instruments from a very young age before deciding on the trumpet in the late 70's, eventually studying with the legendary Dickie Hawden at Leeds College of Music. He has been involved with many different styles of music, from brass bands to contemporary jazz orchestras, including spells working with pop/rock groups.
Paul has worked with a wide variety of bands from a very young age. At 22 Years old he was a finalist in the Yorkshire Television 'Young Jazz Player of the Year' competition, this helped to develop his playing career by opening up many new opportunities.
He has played with artists such as John Dankworth, Kenny Baker, Bob Wilber, Kenny Wheeler, Jools Holland, along with many other groups and has directed, composed and arranged for many bands, including the Don Ellis Connection Orchestra, which he co-directed for 2 years, Obispo, the Arfo-Cuban Salsa Project, and En Fuego, which he still composes and arranges for as well as playing in the band.
2007 saw Paul's involvement with recording for the soundtrack to the film 'Rise of the Footsoldier' which was released at cinemas in july 2007, the track 'Heaven Knows', which features him on trumpet, is now available for download.
Paul plays a custom built scratched 24K gold Eclipse XLY trumpet and a custom built scratched silver, red brass Eclipse Flugelhorn.
Paul is available for all types of Trumpet/Flugel/Piccolo Trumpet work, including writing, arranging & teaching (All types of bands/ensembles) please contact for further details
email paul@tuka.co.uk